Mental Health Platform Issue In Race For District 26 Seat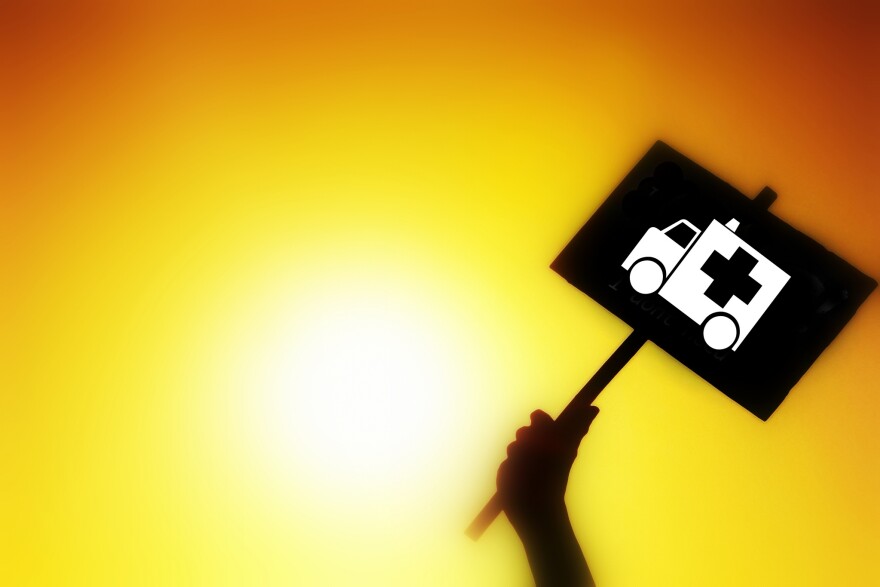 Jennifer Flora has seen first-hand how difficult it can be for people to receive mental health treatment in Indiana. Flora says the nonprofit organization in whose Tippecanoe County office she works, Mental Health America, fields an average of 20 calls a week from people considering suicide — and sometimes she can't connect them with the doctors they need.
"We've provided a lot of referrals to folks," she says, "and we're seeing those referrals more and more difficult to provide."
She says patients — even suicidal ones — sometimes have to wait three months before a doctor can make an appointment, that is, if physicians are accepting new patients at all.
"There was a time about six months ago we were not able to find a health clinic in West Lafayette that was even accepting new patients," Flora explains.
But this isn't a problem unique to Tippecanoe County. Across the state, the mental health workforce is stagnant or even shrinking. That's a problem, because at the same time, thanks in part to the state's drug epidemic, an increasing number of people need treatment.
A Mental Health America report released in October ranks Indiana in the bottom 10 percent of all states for mental health, which indicates a high prevalence of illness and poor access to services.
Democrat Victoria Woeste, an American Bar Association researcher, says she became aware of the lack of psychiatric care in Indiana when one of her sons was diagnosed with autism. She says finding help for children is especially difficult.
"There are some counties in Indiana that have one mental health provider for every 15,000 children," Woeste says. "That kind of statistic is just forehead-slapping-inducing."
Republican Sally Siegrist is a Tippecanoe County Councilor and a member of the recently-formed Tippecanoe County Mental Health Care Forum, a consortium of local leaders and professionals that works to create recommendations for improving mental health.
Siegrist says she likes the idea of developing a commission that could help local governments share information about effective programs across the state.
"I'm a small government person, and I believe the closer you are to a problem, the more effective you can be at solving it," she says.
The commission could also assist in helping agencies find grant money.
"And so we don't have to reinvent the wheel, but if we come up with a new idea that works that can be shared with other communities," Siegrist says.
Siegrist and Woeste entered the race for State House District 26 because of the retirement of four-term Rep. Randy Truitt. It's a seat Democrats have eyed as a possible pickup on the road to eating away at both of the Republican supermajorities in the Indiana Legislature.
But unlike many races this fall, this one has remained focused on the issues, with consistent civility between the candidates. That's left more time for talk of mental health care improvements.
Woeste says she'd like to study, support and potentially expand an Indiana program that reimburses mental health professionals for their college tuition if they practice in Indiana. She hopes this will increase the number of nurse practitioners.
"Nurse practitioners, because they don't take as much training are not as expensive, and you can have more of them for the same amount of money you can a physician," says Woeste.
Woeste also wants to know why reimbursement rates are so low and consider legislation that would increase provider compensation as an incentive for providers to stay in Indiana.
"Professionals in the field will tell you one of the reasons Indiana isn't seen as a great place to practice in this field is because their reimbursement rates are so low," says Woeste. "If you practice on the East Coast, for instance, your reimbursement rates are going to be much higher, [or] if you go to Colorado."
Like Woeste, Siegrist wants to look at reimbursement. She's also is in favor of increasing the number of nurse practitioners trained in psychiatric care. She points to a potential program the Tippecanoe County task force has championed, which would create a psychiatric nurse practitioner program at Purdue University. Siegrist says she'd also like to see increased tuition reimbursement.
"We would double the number of graduates," she says, "but we would also offer the graduates from the Purdue program tuition reimbursements to stay here and spread that out over a period of time, possibly 10 years, for each year of service here a part of tuition would be reimbursed."
And Mental Health America's Jennifer Flora says the candidates are right to focus on the money.
"A couple of the areas we would like to see changed here in Tippecanoe — as well as across the state — is reimbursement rates increased, increase in the number of mental health professionals including therapists and psychiatrists," says Flora.
The House District Woeste and Siegrist are vying to represent is contained entirely within Tippecanoe County. Early vote totals there have already surpassed those for all of 2012 and may approach the modern turnout record set in 2008.
So whoever wins will have many voters to answer to as they try to write a prescription for the future of mental health care in Indiana.