NWS: Kokomo Tornado Rated EF-3
The National Weather Service says an EF-3 tornado damaged property in Kokomo, Indiana, August 24, 2016.
Annie Ropiek
Winds flattened this Starbucks building near Markland Mall in Kokomo, Indiana, on August 24, 2016.
Annie Ropiek
Tornadic winds flattened a Starbucks in Kokomo, Indiana, on August 24, 2016.
Annie Ropiek
Ominous clouds after a tornado blew through Kokomo, Indiana, Wednesday, August 24, 2016.
Annie Ropiek
Some Kokomo, Indiana, residents take shelter in Tipton County on August 24, 2016.
Annie Ropiek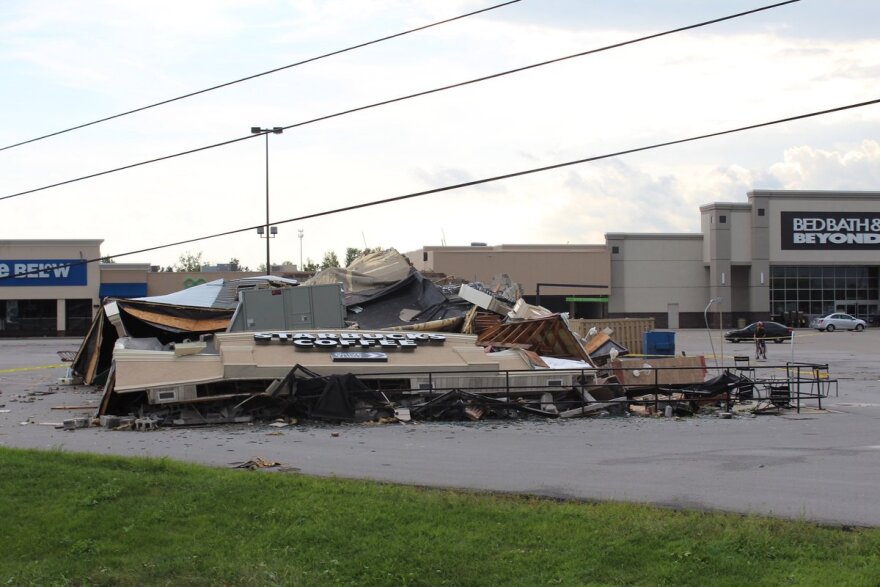 UPDATE: The National Weather Service confirmed a fifth tornado, an EF-0 in Marion County.
Residents and teams from the Indianapolis National Weather Service office are surveying the damage after several tornados swept through Central Indiana Wednesday evening.
The NWS on Thursday issued preliminary storm ratings on four tornados. The weather service says an EF-3 hit Kokomo, which appears to have suffered the most damage. Also, the NWS says a tornado rated EF-2 hit Montgomery County, and two different EF-1 tornados hit southwestern Howard County, and Carroll and Howard counties.
National Weather Service Science and Weather Officer John Kwiatkowski says a high pressure system over southern Indiana and a cold front over the northern part of the state created the two large tornados.
Kwiatkowski says storms covered the central third of the state, where the two weather systems collaborated to produce funnel clouds high in the atmosphere.
He says those systems then produced thunderstorms, which intensified the problem.
"The analogy I would use is when you see an Olympic skater pull in her arms, they spin faster," Kwiatkowski says.
In effect, he says the thunderstorms pulled in the arms of smaller funnel clouds forming in the sky to make the EF-3 and EF-2 tornados that hit Kokomo and Montgomery County.
Kwiatkowski says storms like this are fairly unusual.
"The intensity of the tornado we got in Kokomo is something you might see within our service area once every couple of years," he says.
Kwiatkowski says it's also strange to see tornados in August anywhere in the state. Tornado season typically runs from April to July.
The national weather service is trying to assess how many other smaller tornadoes hit the central portion of the state.
Nine different counties reported funnel clouds and tornado touchdowns.
Kokomo Mayor Greg Goodnight says about a dozen people were injured, and no one was killed.
But 165 mile-per-hour winds destroyed several homes, damaged many other structures and shredded trees.
The first tornado touched down around 3 p.m. at Markland Mall on the east side of the city, leveling a Starbucks and downing trees in the neighborhood across the street.
Rose Williams says she was working nearby in the Indiana Health Center when the tornado went through.
"We saw it then, coming behind Kroger, and it hit behind Kroger," Williams says. "Then it came on up, and came on across, and we thought it was done."
But the severe weather wasn't over. Thunderstorms continued to blow up as property owners went outside to assess the damage.
James and Sarah Carlow say the first tornado brought down a tree in their backyard.
They left it leaning against their house in Kokomo, grabbed their two young sons, and sought shelter at a Burger King half-an-hour away in Tipton County, before the next tornado moved into Howard County.
"We've seen it, heard about it, I'm like, let's pack our bags and let's go," Sarah Carlow says. "So we packed up everything important and took off, and we kept going south until we found power, which, this was the first place."
Carlow says it was reminiscent of a tornado that damaged parts of the same neighborhood in 2013.
Thousands were without power after the first tornado. Duke Energy reported 39,000 Central Indiana customers without power Wednesday evening, and more than 25,000 of those customers were in Howard County.
Nearly 200 people spent the night at a Red Cross shelter in the Kokomo Event and Conference Center.
American Red Cross spokesman Mark Slusher says more than 100 homes were classified as destroyed.
"In 2013 some of the same areas were impacted," Slusher says. "This is the second time for some. So it's nice for them to just come to a comfortable place.
Lamaria Capers says her home wasn't badly damaged in the storm. But she brought her two children to the shelter for the night because much of the city was without power.
"You always see other people going through it," Capers says. "I've never been through it before. Now that it's hitting home I understand how it could affect families."
Seventh-grader Gavin Fausett says his school bus driver stopped at a church and everyone on board ran inside to shelter from the first storm.
By the time he got home, another storm was headed for his neighborhood.
Gavin's, dad Thomas Fausett, says they took shelter in a closet and prayed.
"As soon as we started to pray and we heard the noise and the ground started shaking," Thomas Fausett says. "It sounded like a freight train coming through, and no sooner than it come through it was gone."
Debris left a large hole in the Fausett's garage, and the tornado took out the family's patio furniture and several tree limbs.
Mayor Goodnight says he wasn't in town when the first storm hit. He was driving back from Indianapolis after attending a conference on climate change.
"As I came into town ... I saw a lot of roofs taken off and some damage to property, some substantial sum," he says.