Drew Petersen 4/6 Concert Preview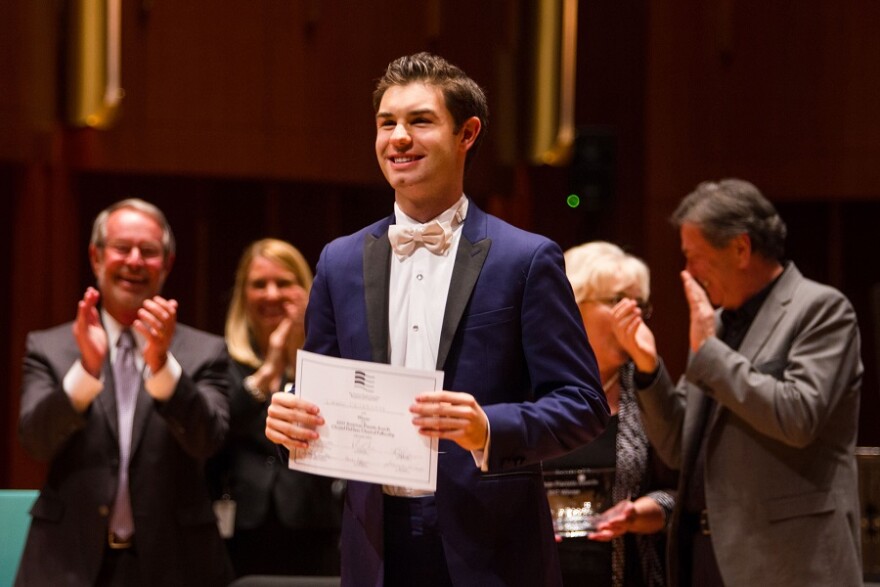 Pianist Drew Petersen is one of four recipients of this year's Avery Fisher Career Grants, and performs this Friday, April 6th at Purdue University's Loeb Playhouse inside Stewart Center. Petersen also won the 2017 American Pianists Awards after a rigorous 13-month competition comprising solo and chamber recitals, concerto performances, and community outreach activities. His debut album for the Steinway & Sons label, featuring music by all American composers, will be released in early summer of 2018. WBAA's John Clare spoke to Drew over the phone about winning awards and his upcoming concert.
Learn more about the concert here. Drew will join John Clare LIVEon Friday, April 6th at 11:30am for Morning Classics on WBAA Classical 101.3FM and WBAA.org.
Acclaimed 24-year-old American pianist Drew Petersen is a sought-after soloist, recitalist, and chamber musician in the United States, Europe, and Asia. Winner of the 2017 American Pianists Awards and the Christel DeHaan Fellow of the American Pianists Association, and also Artist-In-Residence at the University of Indianapolis, he has been praised for his commanding and poetic performances of repertoire ranging from Bach to Zaimont.
Fall 2017 saw Mr. Petersen's debut with the Tucson Symphony Orchestra and included solo recitals at the Gilmore International Keyboard Festival, University of Indianapolis, and Dame Myra Hess Concerts (Chicago). Highlights of the second half of Petersen's 2017-18 season include his debut with the Milwaukee Symphony Orchestra and a nine-city US recital tour culminating with a solo recital at the Cleveland International Piano Competition. Of note is Mr. Petersen's Spring 2018 debut album for the Steinway & Sons record label. The CD explores 20th- and 21st-century American piano music and features the monumental piano sonatas of Samuel Barber and Elliott Carter, the world premiere recording of Judith Lang Zaimont's suite Attars, and works by Charles Griffes and Charles Ives.
Mr. Petersen's firm belief in the importance of music in contemporary global society led him to collaborations with Young Audiences NY presenting performances in NYC Public Schools. A tireless advocate for the necessity of classical music and other arts in society, he was named a 2006 Davidson Fellow for his portfolio entitled "Keeping Classical Music Alive." His singular talent has been profiled in The New York Times, New York Magazine, and the documentary "just normal" by award-winning director Kim A. Snyder.
Drew Petersen is currently a candidate in the Artist Diploma program at The Juilliard School, studying under Robert McDonald.