Sunday Alcohol Sales Signed Into Law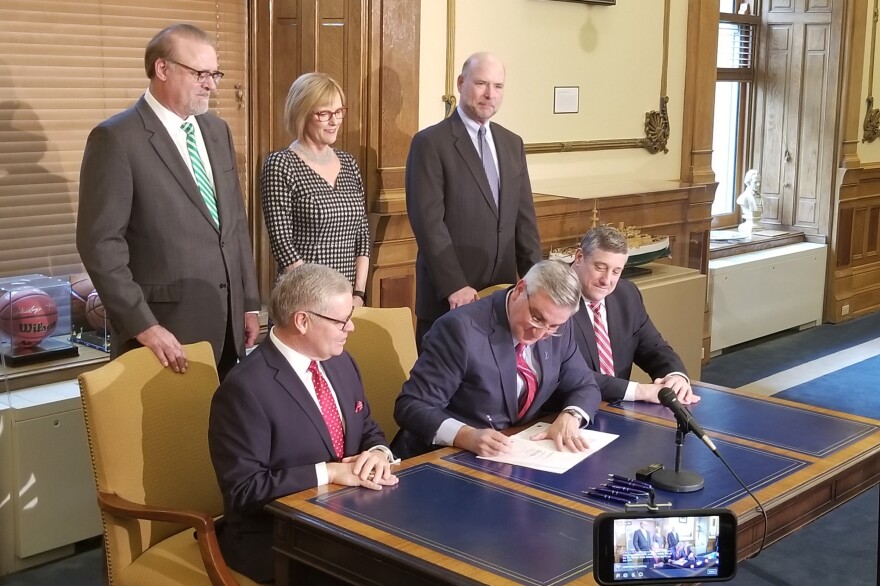 In front of media, staffers and legislators, Gov. Eric Holcomb signed the bill into law. Holcomb says the bill is giving the consumers what they want.
"This is just yet another example where the State of Indiana has sought to, and indeed modernized, our laws to meet consumer expectation," Holcomb says.
As expected, Hoosiers will be able to purchase alcohol on Sundays, starting this weekend.
"There is absolutely no need to any longer to make run for the border if you're a Hoosier or a Hoosier at heart," Holcomb says.
Sen. Ron Alting (R-Lafayette) wrote the bill and says the timing was right.
"We sold this bill that it is consumer friendly. Sunday is the biggest day of shopping. So that was one of the differences too on my approach on how to sell Sunday sales."
Carry-out alcohol sales won't be legal all day Sunday – just from noon to 8 p.m. Alting says he plans to take a look at that restriction in the future and see if adjustments should be made.
House Speaker Brian Bosma says more changes are in the works for alcohol reform.
"This will be the first of several no doubt revisions to the alcohol code," Bosma says.
It does not include some provisions others still want, including the ability for sellers other than liquor stores to sell cold beer.