RFRA Figuring Into Students' Decisions On Indiana Colleges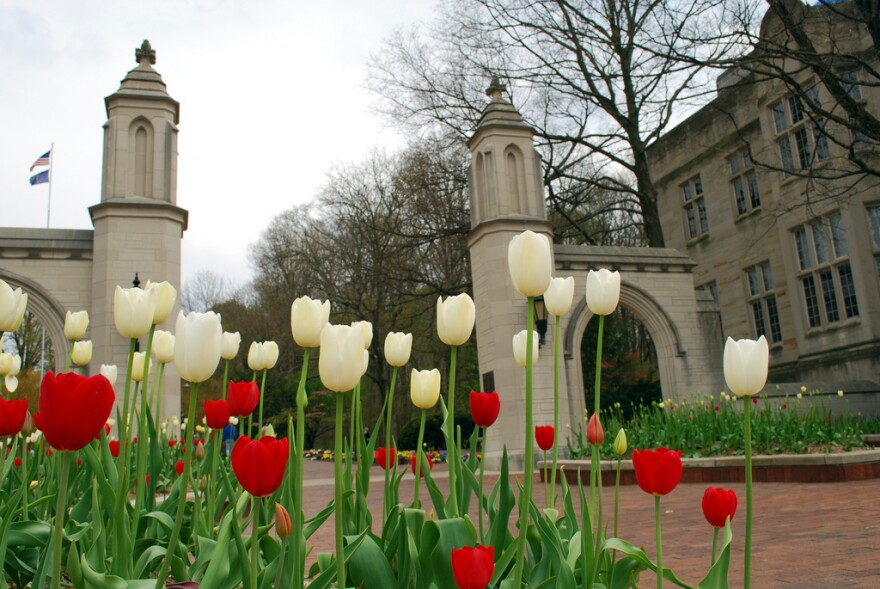 Almost every day this month, hundreds of prospective students will visit Indiana University's campus. They either recently committed, or are trying to get one last feel for the university before choosing a school by the May 1 deadline.
Liam Dixon is one of those students taking an April campus tour. He applied to 18 universities and has spent the majority of his senior year at his home in Irvine, Calif. trying to decide which one is the best fit for him. He recently settled on IU.
Around the same time he committed to IU, the news of Indiana's religious freedom bill reached Dixon in California, where he goes to school with openly gay students and lives in what he calls a very open-minded community.
"I didn't know how to interpret hearing they were being so close-minded and conservative on this on specific topic," Dixon says.
Dixon wasn't the only out-of-state student to question his decision about spending the next four years in Indiana after reading about the law. The Admissions Office at IU received multiple calls and emails from out-of-state students and their families.
"These are families that have developed relationships with us and they've visited us many times and they've been engaged with us throughout their process," says Sacha Thieme, Executive Director of Admissions for IU. "They just want to know that the experiences that they've had with Indiana University and Bloomington to date are going to be the same experiences they can expect in the future."
Thieme says although the concurrent timing of the commitment deadline and RFRA was unfortunate, it helped engage prospective families with IU and learn even more about the university.
"We welcome families to ask questions, we welcome students to ask questions, we're an institution of higher education we invite academic inquiry," Thieme says.
"Students Make Change"
IU wasn't the only university to engage in the RFRA conversation; university presidents from Ball State, Butler, and DePauw as well as IU all issued statements saying their schools accept all students and oppose the law.
Mike Reilly, Executive Director for the American Association of Collegiate Registrars and Admissions Officers, says that was an important move for the schools because social issues are becoming more and more important to college students. He says that trend can be seen in the rankings of colleges that come out each year.
"Instead of ranking colleges just on academic issues [they] will rank them on their diversity, on their social climate, on the best vegetarian campuses, campuses that are committed to making a difference," he says.
Reilly says prospective students who feel passionately about RFRA or other political issues should look at the chance to move to Indiana as an opportunity.
"Students make change, so it sort of requires that you have students committed and passionate about change attending campuses," he says. "Even those in states that need a little bit of work rather than simply selecting those where all of the work has already been done."
The idea of being able to make change is something IU sophomore and Kokomo native Morgan Mohr is currently grappling with. For her, the legislation and reaction from those in and out of the state prompted another question: is Indiana a state she wants to work and live in after graduation?
Mohr studies political science at IU, is interning on a mayoral campaign in Bloomington and is considering law school. But after seeing the backlash from people around the country regarding RFRA, she's worried about what her degree from IU will say about a potential political or law career.
"When Seattle and for example New York, banned state travel for employees to come to Indiana, I think that just shows people across the nation are really concerned," Mohr says. "Not just about some of our politicians but about the state as a whole and about the attitudes of people in the state toward LGBT people and their potential for discrimination."
Mohr says she would like to stay in Indiana to pursue her career, and wants to spend the rest of her college experience figuring out how she can contribute to Indiana rather than feel discouraged by it.
For Dixon, his visit to IU changed his perception of the state that RFRA created. He says as he walked around campus and saw signs promoting acceptance and talked with current students, he became more excited about going to school there in the fall.
"I've definitely felt that people are more accepting here and it doesn't seem like what went on in the Capitol building is really being reflected down here in the students' mindsets," Dixon says. "It seems like everyone is just like how the mindset is in California where they don't care."